Brigid's Cross
Saturday, February 16, 2013
10am - 5pm
Brigit's Garden, Roscahill, Co. Galway

During this day of meditation and visualisation, we will explore the symbol of Brigid's Cross, originally an ancient sun-symbol and later in Christian times, connected with St Brigid of Kildare. We will look at how this dynamic symbol has changed its attributes over the centuries and allow ourselves the opportunity to create new meaning for it and charge it with fresh power and energy.
Brigid's Cross will also act as a focus for our personal direction both inner and outer in the coming year and enhance our awareness of the potential of new light and consciousness available to us on many levels.
The workshop will be facilitated by Sara Jane Kingston.
Price: €85 including lunch.
To book click here: http://www.brigitsgarden.ie/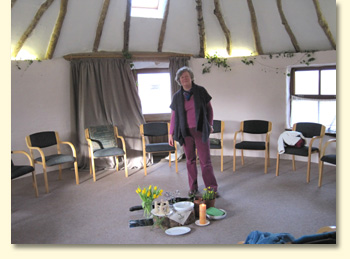 Setting up for Brigid Workshop
Contact Information:
mob. 087-9810401

---
If you would like me to give a Brigid Day in your area or country, please contact me at: sjkingston@eircom.net
Have cloak, will travel!