Brigid's Day this year (2013) dawned a little dull, but by the time I had finished making my Brigid's Cross the sun had come out and the day turned into one of those magical Spring days. A few of us set off to go to Brigid's Well in Liscannor, where we picked some more rushes in the vicinity of the well.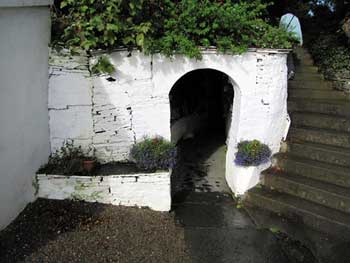 There is a very special energy there on Brigid's Day, people come from far and wide to pray, to honour Brigid and to take some water from the well.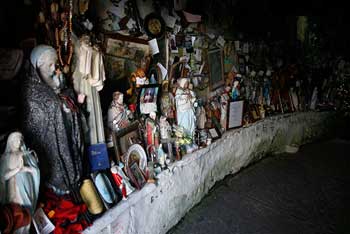 In the days leading up to Brigid's Day I had felt Brigid urging me to create a soap/cleansing bar which would encapsulate her energy. After various attempts to find a soapmaker willing to help me, to my delight when I talked with Suzanne Orford, she agreed to take on the project. I knew Suzanne was the right person to make the soap - she lives only a few miles from me, I already loved her soaps, (see www.thedollytub.com) and the final confirmation: her six-year old daughter is called Bridget and her grandmother had also been called Bridget!



As some of you who have used my meditation cd will know, I believe the Brigid's Cross which is made from green rushes, is a powerful instrument of clearing and cleansing dense energies, and the idea of the Brigid Soap is that it is used not only to clear the body but also the aura/energy field. So, the special ingredients in this soap which are connected with Brigid are the ground green rushes and the Brigid Essence which contains the essence of Brigid's Well in Kildare and the flame of Brigid. (Click here to see Brigid Essence page). Suzanne uses whole goats milk from a nearby farm to make the soap, this means it is extremely suitable for those with sensitive skin. Other ingredients include the essential oils of healing and cleansing herbs lavender, sage, rosemary and sweet fennel.

We made this first batch of Brigid Soap on Saturday 23rd March. I was included as assistant to Suzanne in her beautiful workshop and I thoroughly enjoyed the alchemical process of soap-making..I could feel Brigid very present especially as we mixed the essential oils, and as the rushes and Brigid Essence were added to the mix. Six year old Bridget popped in and out of the workshop like a little fairy during proceedings, and presented me with a beautiful leaf-ring and drawing at the end of the day.

Today, the 1st May (Bealtaine) Suzanne delivered the cured soap to me and it is ready for use. My wish is that it brings healing and a cleansing of the energy field to all who use it and that it will connect people to the energy of Brigid in a unique way.

Ingredients: Ground green rushes and rosemary, Brigid Essence, coconut oil. olive oil, castor oil, goats milk lye, honey, essential oils of lavender,sage, rosemary and fennel.

Brigid Soap: €8.95 Includes post and packaging.
To purchase go to the Products page.